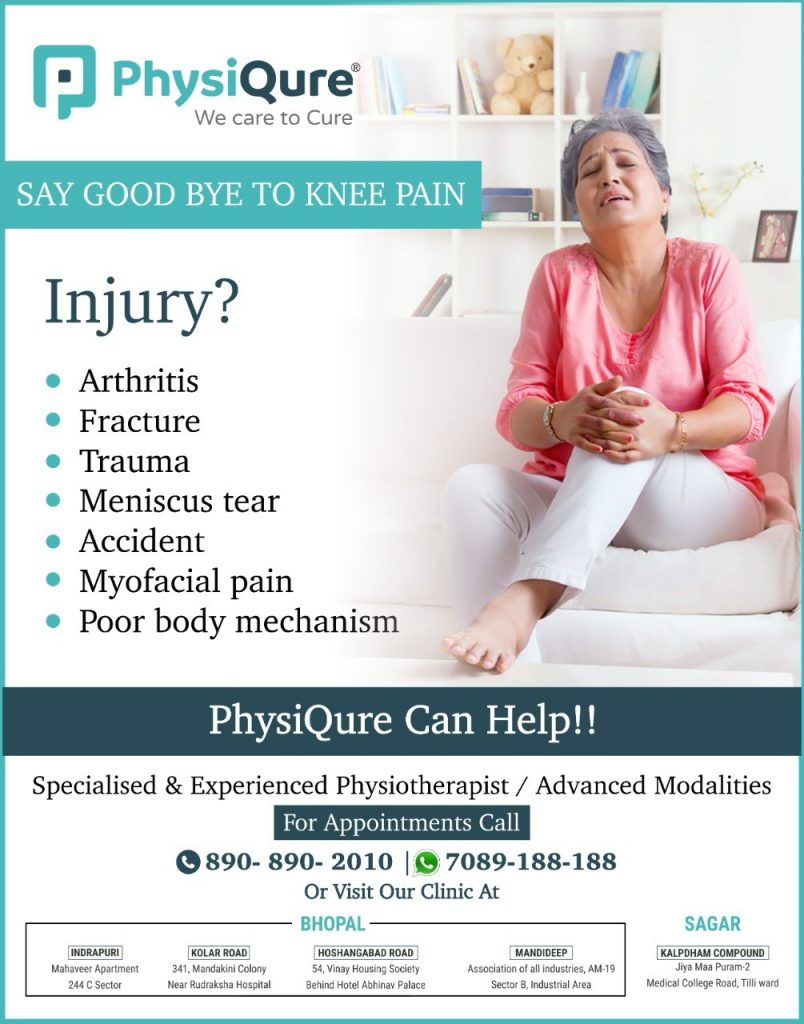 Knee Pain Physiotherapy in Bhopal
Physiotherapy is one of the most sought-after treatment of all types of Knee pains. Knee being a weight bearing joint takes maximum load during all standing, walking, running and other closed chain daily activities. Knee pains arise most commonly from continuous wear and tear that occurs after years of undue stresses being put on it.
Weight has a direct correlation with knee pain. Around 1 kg increase in body weight puts around 4 kgs extra load on knee joints. The group of patients being affected by knee pain vary from obese people to those having a stationary lifestyle. Long sitting hours may also lead to pain in and around knees. The reason being tightening of thigh muscles (Hamstrings) that changes the ranges of movement available at knee. People tend to bear the pain by applying local pain killer gels and ointments or by the most popular massage. These lead to short term reduction in pain but have no effects in long term.
Physiotherapy gives proven treatment to knee pain as the scientific principles work on treating the root cause of pain rather than masking the pain. The Physiotherapy modalities like Short Wave Diathermy (SWD),  Ultrasound therapy, TENS, Interferential therapy (IFT), Dry needling, Taping , Hot fomentation helps to reduce pain without having any side effects unlike medicines.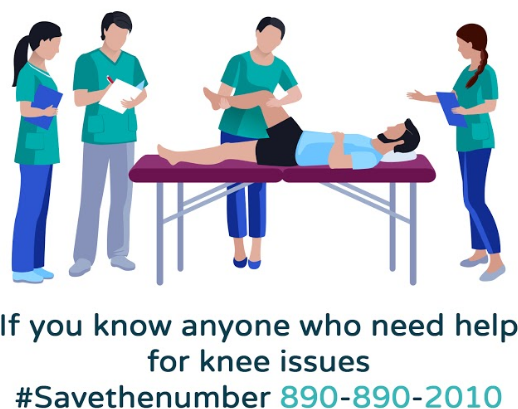 Once pain is reduced, the focus is on strengthening of muscles along with improved flexibility.Teaching the Do's and Don'ts is a very important part of P.T treatment. Not maintaining sitting position for long hours, doing regular stretching exercises and understanding the root cause of pain are some key features of Physio treatment.
Sometimes, as a result of negligence, total and permanent damage is done to knee joints. In these cases also, Physiotherapy is very important both pre and post-surgery. Before surgery, it will help in improving the strength of knee joint muscles which will be trained to take weight post- surgery. If it stays weak, even surgical joint replacement will not be totally effective. So, in any case involving knee pain, Physiotherapy is helpful and important part of treatment.
In Bhopal, PhysiQure brings a stop Physiotherapy solution to patients with acute or severe knee pain treated conservatively or surgically, to make you lead a pain-free life. The team of expert Physios and the advanced treatment modalities are state of art. We focus on result oriented treatment protocols rather then continuing treatment for lifetime, we treat and also train our patients in efficient self-care techniques.
We believe that pain of any musculo-skeletal origin can be managed with correct patient-centred assessment and treatment rather than following one rule fits all principle. Gaining your trust is our motto and we strive hard to let our patients live a healthy and pain-free life.