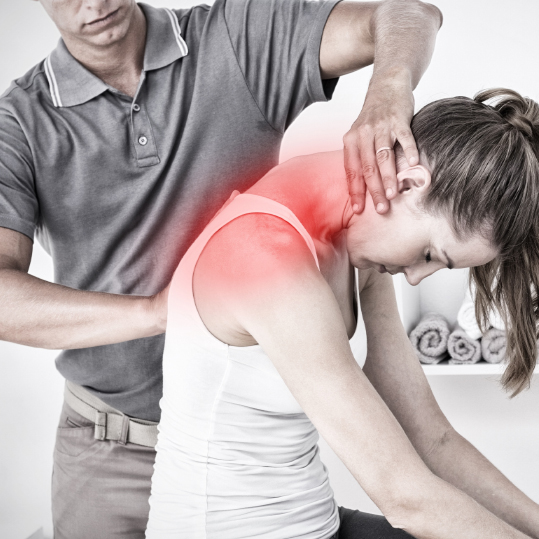 Neck Pain Physiotherapy in Bhopal
Acute and Chronic Neck pains are common problems occurring today in all age groups. Its prevalent in youngsters chiefly due to wrong and unergonomic working patterns, maintaining same neck position for long hours and also owing to excessive use of mobile phones.
Acute Neck pain refers to pain occurring in neck region for less than 6 weeks while Chronic Neck pains are chiefly a result of degenerative changes occurring in Cervical Spine and may be aggravated as a result of wrong posture too.
The pain may be felt anywhere between lower part of skull to shoulder. It may sometimes radiate down the arm and also may cause headache.
Physiotherapy treatment is one of the most commonly advised treatment plan as it is safe and also involves correction of lifestyle factors that may lead to increased chances of Neck pain.
PT treatments for neck pain commonly aims at reducing the pain using moist heat, Short Wave Diathermy, Therapeutic currents (TENS / IFT), Dry Needling, Manipulations, etc. Heat as one of the modality of  choice is based on the principle that increased blood flow in the affected muscles increase their blood circulation thereby carrying away the waste materials and reducing pain.
Once the pain subsides, the next aim is treating the root cause of pain, i.e, strengthening the weak muscles of the next and improving flexibility of the tightened muscles. Even if pain cannot be completely eliminated, physical therapy may play an important role in improving neck posture and function for daily movements. Bhopal has now one of the best Physiotherapy Centre for Neck pain-PhysiQure. The team of expert Physios help the patients in treating the pain as well as train them to take self-care.
PhysiQure has state of art Physiotherapy facilities to give result-oriented Physiotherapy treatment to our patients. We don't want our patients to get misguided but rather trust us with the Physiotherapy services at par with global standards. Our Physios will advise on self-management strategies to be used at home. 
Think of best Physiotherapy services in Bhopal, think of PhysiQure…