Providing Assistance That Goes Beyond Physical Well-Being
Ensure the greatest health habits at a low price!!
Get

Free and Discounted

Health Check-Ups.

Get a Physical muscular Assessment by

Qualified Physiotherapist.

Dedicated healthcare manager –

Your Health buddy!!

Get a

discount

on listed healthcare services.

12 Free Consultations in a year.
Three Physiotherapy Sessions are Absolutely Free.
10% Off on Packages of 7 and 15 Days.
15% Off on Packages of 25 days or Above.
Maintenance of your health records.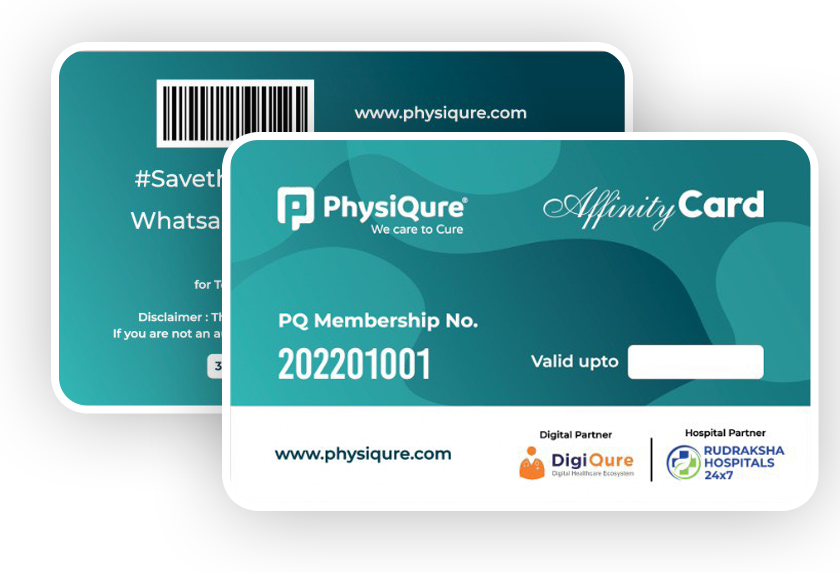 Get your plan today and rest your well being with us!!
Free Physiotherapy consultations - 5 sessions at any center of PhysiQure
First free Consultation of Physician and Healthcare Package, Physical Examination Silver : CBC, LFT, KFT, HbA1C, 1 Xray. ECG. only for 1 member of family.
All Inclusive to Silver 12 Sessions at Any Centres Physio Managers to Consult via Phone for Consultation and muscular health Records
CBC, LFT, KFT, HbA1C, 1 Xray. ECG. only for 2 members of family. or twice for 1 member of Family
All Inclusive in Silver and Gold 120 Sessions at any Centre of PhysiQure Dedicated Physio Managers for consultations of Family 12 Home Visits in a year to assure Physical Health of Family.
CBC, LFT, KFT, HbA1C, 1 Xray. ECG. only for 4 members of family. or two times from 2 members of Family.
Get Your Affinity Card Now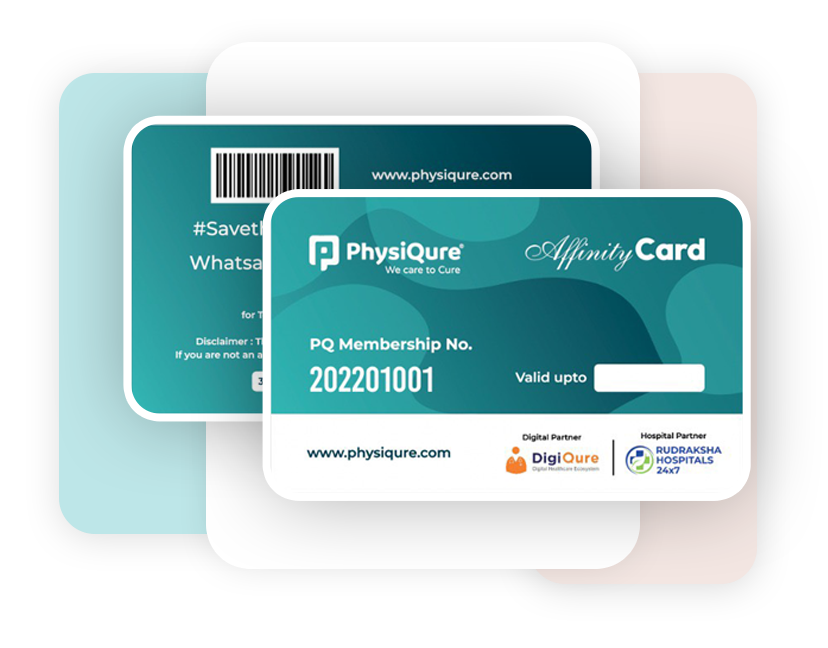 How to get an Affinity Card?
It's very

simple

just fill in the

basic details and an Id proof. 

Our

Executive will help you

in the process.

Once you get the Card, your health worries are ours now

.
How to get an Affinity Card?
Bring your card when you visit PhysiQure Clinic and Our Hospital.
Offers are valid at healthcare facilities of PhysiQure in India.

*Visit www.PhysiQure.com/affinity-card to view the PhysiQure Network.

Cardholders are requested to present the card details at the healthcare facility to avail of the benefits.

Complementary health check-up part from Physiotherapy services mentioned with the card may be announced as per availability. The card is not a transferable instrument; each checkup can be used by the respective individuals covered in this card.

In-Patient discount is applicable only after 1 month from the date of card issue.

In-Patient discounts are not applicable for patients availing of insurance & other scheme benefits.

Offers in the card cannot be clubbed with any other ongoing promotions or discounts.

PhysiQure reserves the right to amend the privileges as well as terms and conditions of the Affinity Card at its sole discretion without any prior notice.

The offers applicable to this card are valid for 12 months from the date of issue.

PhysiQure is not responsible if the card is lost, stolen, destroyed, or misused. Replacement will be provided in such circumstances after a written request and submission of a replacement fee of Rs.100/- . Customers will have to purchase a duplicate card to avail of further discounts at the facility.
The user acknowledges that PhysiQure is merely offering the card facility for enhanced privileges at the healthcare facilities of PhysiQure and is not involved in either debiting or crediting any money or any monetary value from the card of the user.
PhysiQure shall not be, in any manner, liable for any untoward or fraudulent act or omission or wrongful financial transaction of the User or in cases of any loss, improper or erroneous use of the card. The user shall not have any claim, in whatsoever manner, against PhysiQure.

Any dispute arising out of the use of the card shall be referred to arbitration under the Arbitration and Conciliation Act, 1996.